Financial Reasons to Buy a Home Today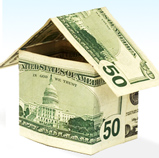 There are a number of personal and emotional reasons to buy a home. But there are also some strong financial reasons to make the investment. Here are just a few of those reasons:
Increase Net Worth: Few things have a greater impact on net worth than owning a home. In a comparison of renters versus homeowners, the Federal Reserve Board of Consumer Finance found that the average net worth of renters was just $4,000 compared to homeowners at $184,400. The value of South Bay real estate has average p over history. In most cases way up.
A Big Tax Deduction: One of the largest tax deductions available is the amount of interest paid on a mortgage.  This amounts to a significant savings – effectively reducing the amount of a homeowner's monthly mortgage payment.
The reality is, despite market ups and downs between 1950 and 2002, US home prices appreciated at an annual growth rate of 4.8%. Even if you calculate a modest appreciation of 3%, a home purchased today for $150,000 will grow in value to $364,000 over 30 years.
US homes are now more valuable than ever The median value of all homes in the United States in June was more than $200,000, according to Zillow. The reason behind the rise in those values is simple: short supply. The inventory of homes for sale was down more than 11 percent in June from June 2016, according to Zillow. 
In fact, U.S. house prices rose 1.5 percent in the fourth quarter of 2016 according to the Federal Housing Finance Agency (FHFA) House Price Index (HPI). House prices rose 6.2 percent from the fourth quarter of 2015 to the fourth quarter of 2016. FHFA's seasonally adjusted monthly index for December was up 0.4 percent from November.
"Although interest rates rose sharply during the fourth quarter, our data show no signs of a home price slowdown," said FHFA Deputy Chief Economist Andrew Leventis. "Although it will certainly take more time for the full effects of the elevated interest rates to be felt, there is no evidence of a normalization in the unusually low inventories of homes available for sale, which has been the primary force behind the extraordinary price gains." 
Historical Home Prices
In fact, US housing prices are rising twice as fast as wages.
As an example locally, according to Sperling Best Places, The median home value in Torrance  , California, is $753,500. Home appreciation is 7.06% over the last 10 years. The median age of Torrance, California, real estate is 50 years.
Trulia says:
Real Estate Data for Torrance
Torrance market trends indicate an increase of $51,500 (8%) in median home sales over the past year. The average price per square foot for this same period rose to $475, up from $452.